Borlotti Beans
FIND THIS ITEM AT YOUR NEAREST STORE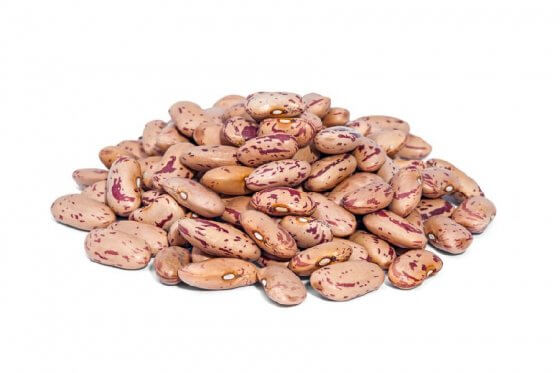 Serving size:                                                   50 g
Average Quantity

Per Serving

Average Quantity

Per 100 g

Energy

Protein

235 kJ

3.6 g

470 kJ

7.3 g

Fat, total

saturated

Carbohydrates

Sugars

0.3 g

0.1 g

8.0 g

1.2 g

0.6 g

0.2 g

16.0 g

2.4 g

Sodium

Dietary Fibre

3 mg

2.8 g

6 mg

5.6 g
Borlotti Beans
FIND THIS ITEM AT YOUR NEAREST STORE
Borlotti beans, also known as cranberry beans, are a medium-sized legume. These dried beans are grown in the USA, are non-GMO and have no added preservatives. Borlotti beans have a mild nutty flavour, natural savoury aroma and a creamy texture when cooked. These red striped legumes are delectable in savoury dishes. They pair with subtle Indian flavours or hotter spices equally well and are great in vegetarian recipes.
---
How to Use:
Borlotti beans should be pre-soak in plenty of cold water (in a large bowl with room for beans to double in size) for a minimum of 4 hours before cooking. This removes the naturally occurring Lectin and Saponin found in many pulses, which can impede digestion. Drain, rinse well and place beans in a pot of cold water, 1:2. Bring to the boil then reduce heat and simmer for about 30 minutes or until tender. Do not add salt while cooking, as this can make outer skins of legumes tough. Drain and use or refrigerate for up to 2 days. Yummy cooked Borlotti beans can be chilled and added to salads or used hot in hearty soups and hotpots. They are particularly good in curries and spiced dishes; try cumin and coriander seeds with freshly grated turmeric and ginger or add chilli for extra zing. Red Borlotti beans are also wonderful refried in Mexican burritos and enchiladas. Left-over spicy beans are a scrumptious topper for baked potatoes with grated cheese or sour cream. These beans are a delicious ingredient for vegetarian burgers, while smashed Borlotti beans are great in dips; mix with spicy salsa and serve with avocado and crackers.
Ingredients:
Borlotti Beans. Preservative Free, Non-GMO, No Added Sugar.
Allergens:
This product contains No Known Allergens. May also contain traces of allergens due to possible cross-contamination.
Storage:
Store in an airtight container in a cool, dry place, away from direct sunlight. Refrigeration recommended in warm climates.
Shelf Life:
Up to 24 months, when stored as above. See Best Before date.
Please contact your local store to check availability.  Not available in all stores.  Images for illustrative purposes only.
Serving size:                                                   50 g
Average Quantity

Per Serving

Average Quantity

Per 100 g

Energy

Protein

235 kJ

3.6 g

470 kJ

7.3 g

Fat, total

saturated

Carbohydrates

Sugars

0.3 g

0.1 g

8.0 g

1.2 g

0.6 g

0.2 g

16.0 g

2.4 g

Sodium

Dietary Fibre

3 mg

2.8 g

6 mg

5.6 g
Product: #13251