Unstabilised Organic Rolled Oats
FIND THIS ITEM AT YOUR NEAREST STORE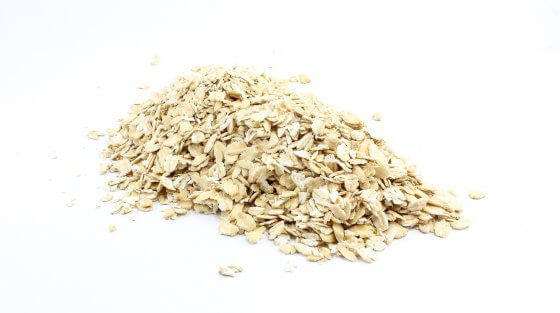 NUTRITION INFORMATION  

Serving size:                                           50 g

Average Quantity

Per Serving

Average Quantity

Per 100 g

Energy

Protein

820  kJ

6.55 g

1640 kJ

13.1 g

Fat, total

– saturated

Carbohydrates

– sugars

5.2 g

0.95 g

28.0 g

0.75 g

10.4 g

1.9 g

56.0 g

1.5 g

Sodium
1 mg
2 mg
Dietary Fibre
5.35 g
10.7 g
Unstabilised Organic Rolled Oats
FIND THIS ITEM AT YOUR NEAREST STORE
These Certified Organic Oats are grown in Australia, are non-GMO and have no added preservatives. 'Unstabilised' indicates that the oats have not been steamed during the processing. Instead, the oat grains are hulled and then simply rolled in a press. Unstabilised Organic Rolled Oats are full flavoured, slightly nutty, with a subtle fresh aroma. They have a slightly firmer texture than oats that have been pre-steamed. Oats are a traditional ingredient in porridge, muesli, apple crumble and Anzac biscuits. They can be used in a myriad of ways – from breakfast to desserts, in baked and raw recipes.
---
How to Use:
At breakfast Rolled Oats can be used to create your own muesli; either natural Bircher Swiss or oven-toasted in honey, maple syrup or apple juice. Add oats to smoothies, or make delicious, warming porridge topped with chopped nuts and seeds, yoghurt or fresh fruit.
Unstabilised oats will take longer to cook than pre-steamed rolled oats, approx. 20 minutes. They can be soaked overnight in water with 1-2 tbsp of lemon juice or cider vinegar, to shorten the cooking time to about 10 minutes.
Drain and add to an equal amount of fresh water. Bring to the boil, turn down to simmer and stir often until porridge is ready.
Organic Oats are wonderful in home-baked bread and muffins, and of course, the classic Anzac biscuit. They are fabulous with shredded coconut and maple syrup as an irresistible fruit crumble topping – try pear and rhubarb, apricot, or raspberry and apple. Try them in muesli bars or raw food snacks for extra texture.
These Unstabilised Rolled oats can also be used to make fresh Oat mylk. However, as the oats are unstabilised it may not store as long as other oat mylk and is best consumed fresh. As unstabilised oats have not been heat or steam processed, and contain no added preservatives, they should be stored in the refrigerator in an airtight container to maintain optimal freshness.
Ingredients:
Organic Rolled Oats.
Preservative Free, Non-GMO.
Allergens:
This product contains Gluten. This product may contain traces of other Allergens.
Storage:
Store in an airtight container in a cool, dry place, away from direct sunlight. Refrigeration recommended.
Shelf Life:
Up to 12 months when stored as above. See Best Before date.
Please contact your local store to check availability.  Not available in all stores.  Images for illustrative purposes only.
NUTRITION INFORMATION  

Serving size:                                           50 g

Average Quantity

Per Serving

Average Quantity

Per 100 g

Energy

Protein

820  kJ

6.55 g

1640 kJ

13.1 g

Fat, total

– saturated

Carbohydrates

– sugars

5.2 g

0.95 g

28.0 g

0.75 g

10.4 g

1.9 g

56.0 g

1.5 g

Sodium
1 mg
2 mg
Dietary Fibre
5.35 g
10.7 g
Product: #17618