Almond Mylk Base
FIND THIS ITEM AT YOUR NEAREST STORE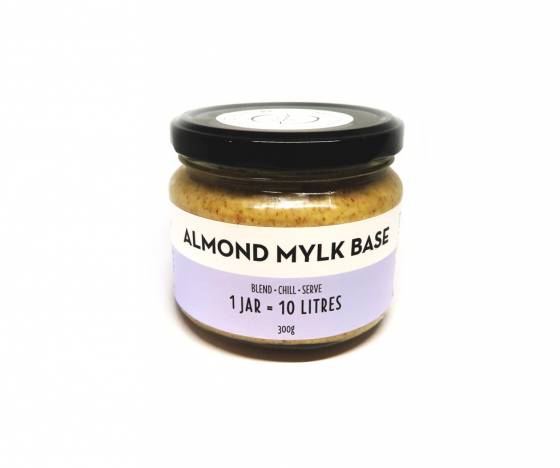 NUTRITION INFORMATION  

Serving size:                                           7.5 g of base added to 250 ml water.

Average Quantity

Per Serving

Average Quantity

Per 100 g

Energy

Protein

186 kJ

1.4 g

2480 kJ

19.1 g

Fat, total

– saturated

Carbohydrates

– sugars

4.0 g

0.3 g

0.5 g

0.4 g

53.1 g

3.6 g

6.6 g

5.2 g

Sodium
0 mg
5 mg
Almond Mylk Base
FIND THIS ITEM AT YOUR NEAREST STORE
This mylk base is made from Australian grown, insecticide-free raw almonds. The wonderful fresh flavour is enhanced with just a touch of organic mesquite powder and sea salt, while a little organic arrowroot adds to the smooth, creamy texture. It is suitable for a low FODMAP diet and contains no added preservatives or artificial additives. A great replacement for cartons of nut mylk or dairy milk. Delicious in hot or cold beverages, raw foods, and cooking recipes.
---
This almond mylk base is a convenient and economical way to always have freshly made nut mylk at hand. One jar of this base makes up to 10 litres of almond mylk. Taking just a minute or so to make up, it certainly beats running down to the shop when you're out of milk. Reduce waste and save money by making as much or as little mylk as you need – when you need. This small jar also saves all those cartons from going to landfill – another great way to reduce unneeded packaging and waste.
How to Use:
Combine 1½ to 2 Tbsps. (30-40 grams) of this almond mylk base with 1 litre of water, for 1 minute on high in a blender. A higher ratio of mylk base can be used for a thicker, creamier result. Refrigerate almond mylk in a glass jar or bottle, for best result. Store in the fridge for 3-4 days. Remember to shake or stir almond milk before using, as it may settle.  To save time, add this mylk base directly to smoothies. Simply blitz your favourite fruits and smoothie superfoods in a blender, with 1 tsp. (7.5 grams) of mylk base and 250 ml of water. Almond mylk is also great with breakfast cereal or porridge, and lovely in hot beverages including turmeric lattes and spiced chai. It is scrumptious in raw foods, vegan mayonnaise and sauces, or dessert and baking recipes.
Ingredients:
Insecticide-free Raw Almonds (min. 96%), Mesquite*, Arrowroot*, Macrobiotic Sea Salt. May contain traces of Peanuts. *Certified Organic. Preservative Free.
Allergens:
This product contains Tree Nuts. May also contain traces of  Peanuts or other allergens due to possible cross-contamination.
Storage:
Store in a cool, dry place, away from direct sunlight. For best results store in the refrigerator after opening, otherwise best consumed within 3 months.
Shelf Life:
Up to 12 months. See Best Before date on jar.
Please contact your local store to check availability.  Not available in all stores.  Images for illustrative purposes only.
NUTRITION INFORMATION  

Serving size:                                           7.5 g of base added to 250 ml water.

Average Quantity

Per Serving

Average Quantity

Per 100 g

Energy

Protein

186 kJ

1.4 g

2480 kJ

19.1 g

Fat, total

– saturated

Carbohydrates

– sugars

4.0 g

0.3 g

0.5 g

0.4 g

53.1 g

3.6 g

6.6 g

5.2 g

Sodium
0 mg
5 mg
Product: #45264