Organic Apple Cider Vinegar
FIND THIS ITEM AT YOUR NEAREST STORE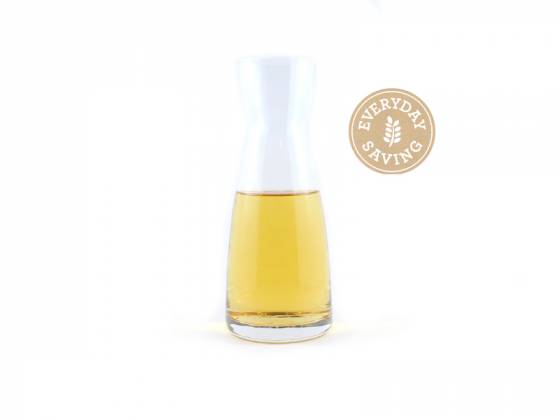 NUTRITION INFORMATION  

Serving size:                                           20 ml

Average Quantity

Per Serving

Average Quantity

Per 100 ml

Energy

Protein

 18 kJ

0 g

 92 kJ

0 g

Fat, total

– saturated

Carbohydrates

– sugars

   0 g

0 g

0.2 g

0.1 g

   0 g

0 g

0.9 g

0.4 g

Sodium
   1 mg
   5 mg
Organic Apple Cider Vinegar
FIND THIS ITEM AT YOUR NEAREST STORE
LOW PRICE EVERYDAY: $9.90 L 
Across every one of our locally owned stores, you'll enjoy low pricing and savings on over 50 essential grocery items all day, every day!
Instore and online, look for our Everyday Saving Symbol displayed on selected grains, beans, oils, baking, health, cleaning products and more!
An Everyday Saving every time you shop and no plastic to take home? There's never been a better reason to visit your neighbourhood The Source Bulk Foods!
Delectable Organic Apple Cider Vinegar is made from tree-ripened certified organic apples. It has been naturally fermented, then matured in oak barrels, and is unfiltered and unpasteurised. With a sweet, fruity, tangy flavour and aroma, this Apple Cider Vinegar has a slightly cloudy appearance due to the natural 'mother'; and a delightful orange colour, also natural. It is GMO free and contains no artificial additives. Apple Cider vinegar adds a full, delicious flavour to dressings and sauces, as a condiment, or in any recipe that calls for vinegar.
---
How to Use:
Enjoy this scrumptious Organic Apple Cider Vinegar's natural flavours in salad dressings and marinades, preserves and pickles or any recipe that requires vinegar. Add a splash to Thai soups or Asian noodle dishes.
Enjoy as a condiment with classic fish 'n chips or grilled seafood. Sprinkle over steamed vegetables.
Or add a dash of Apple cider Vinegar and a little Rapadura or coconut sugar to fresh berries or fruit salad. For a refreshing beverage add up to 2 tbsps. of cider vinegar to a large glass of filtered water.
Ingredients:
100% Whole Organic Apple. Preservative Free.
Please note liquid products may incur an additional cost for container.
Allergens:
No known allergens. This product may contain traces of allergens due to possible cross-contamination.
Storage:
Store in an airtight container in a cool, dry place away from direct sunlight.
Shelf Life:
Up to 18 months, when stored as above. See Best Before date.
Please contact your local store to check availability.  Not available in all stores.  Images for illustrative purposes only.
NUTRITION INFORMATION  

Serving size:                                           20 ml

Average Quantity

Per Serving

Average Quantity

Per 100 ml

Energy

Protein

 18 kJ

0 g

 92 kJ

0 g

Fat, total

– saturated

Carbohydrates

– sugars

   0 g

0 g

0.2 g

0.1 g

   0 g

0 g

0.9 g

0.4 g

Sodium
   1 mg
   5 mg
Product: #1866