Organic Raw Australian Carob Powder
FIND THIS ITEM AT YOUR NEAREST STORE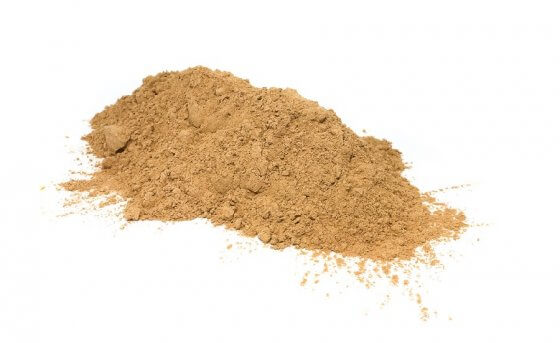 NUTRITION INFORMATION  

Serving size:                           10 g

Average Quantity

Per Serving

Average Quantity

Per 100 g

Energy

Protein

130  kJ

0.6 g

1300 kJ

6.1 g

Fat, total

– saturated

Carbohydrates

– sugars

<0.2 g

<0.1 g

5.8 g

5.1 g

<0.2 g

<0.1 g

58.0 g

51.0 g

Sodium
1 mg
8 mg
Dietary Fibre
2.6 g
26.0 g
Organic Raw Australian Carob Powder
FIND THIS ITEM AT YOUR NEAREST STORE
Carob powder is the ground pulp (or kibble) that surrounds the carob beans, aka locust beans, within the pod. Part of the pea family, carob trees (Ceratonia siliqua) originate from the Mediterranean. This raw Carob powder is grown in Australia and Certified Organic.  Carob has a naturally sweet taste that is quite earthy. Although Carob is often used in place of chocolate, the flavour is much milder and does not have the bitter notes of cacao. This raw carob powder is full flavoured with a light brown colour, sweet aroma and fine texture. Enjoy it in beverages, raw treats, confectionery and baked goods.
---
How to Use:
Carob powder is delicious in hot or cold beverages. Add a spoonful to smoothies, or dissolve in a little warm water before adding ice and your favourite chilled dairy or plant milk. For a substitute to hot chocolate, simply replace cocoa with an equal amount of carob. As carob is naturally sweet added sugar is not necessary, although a dash of honey, coconut nectar or maple syrup does add extra flavour.
To create a lovely non-dairy chocolate substitute, combine carob powder with an equal amount of coconut oil, with a dash of maple or coconut syrup. Dip fresh fruit in the melted mix (try banana, mango and strawberries), stir through mixed seeds and chopped nuts and spoon 'clusters' on to greaseproof paper to set; or add dried fruit (Inca and goji berries are great) and set in a slab.
This raw carob powder is also wonderful for raw food treats and home-baked goods. To use carob powder as a replacement for cacao powder in recipes, substitute 1:1. If replacing solid dark cooking chocolate, use 2-3 times as much carob powder by weight.
Ingredients:
Organic Raw Australian Carob Powder.
Preservative Free, Non GMO, No Added Sugar.
Allergens:
No known allergens. May contain traces of allergens due to possible cross-contamination.
Storage:
Store in an airtight container in a cool, dry place, away from direct sunlight. Refrigeration recommended in warm climates.
Shelf Life:
Up to 36 months when stored as above. See Best Before date.
Please contact your local store to check availability.  Not available in all stores.  Images for illustrative purposes only.
NUTRITION INFORMATION  

Serving size:                           10 g

Average Quantity

Per Serving

Average Quantity

Per 100 g

Energy

Protein

130  kJ

0.6 g

1300 kJ

6.1 g

Fat, total

– saturated

Carbohydrates

– sugars

<0.2 g

<0.1 g

5.8 g

5.1 g

<0.2 g

<0.1 g

58.0 g

51.0 g

Sodium
1 mg
8 mg
Dietary Fibre
2.6 g
26.0 g
Product: #10185