Organic Vanilla Bean Powder
FIND THIS ITEM AT YOUR NEAREST STORE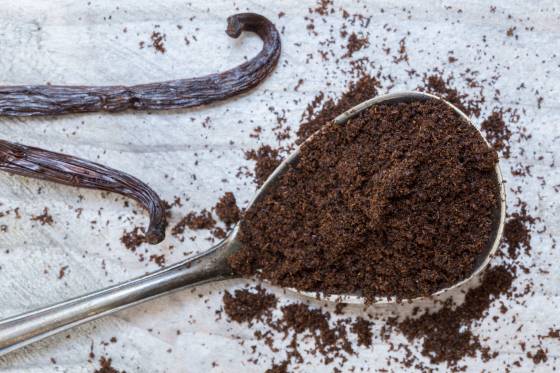 Per 50g serving
Per 100 g
Calories
615 kJ
1230 kJ
Total Fat

–        Saturated Fat

0 g

0 g

0 g

0 g

Sodium
4.5 mg
9 mg
Total Carbohydrate

–        Sugar

6.5 g

0 g

13 g

0 g

Protein
0 g
0 g
Organic Vanilla Bean Powder
FIND THIS ITEM AT YOUR NEAREST STORE
Organic Vanilla Bean Powder is harvested from organically grown vines, which bear orchid flowers from the genus Vanilla. Vanilla Powder has an undeniably rich, warm and intriguing fragrance. The flavour can be described as sweet, creamy and smooth. It's aromatic warmth offers comfort with the same bold flavour as the vanilla pod.
---
How to Use:
Just a sprinkle of this sweet-scented ground bean offers a delicious addition to your baking, teas, coffees, spiced chai lattes, smoothies and desserts.
Also try adding it to your porridge, yoghurts or cereals.
Ingredients:
Organic Vanilla Bean powder.
Per 50g serving
Per 100 g
Calories
615 kJ
1230 kJ
Total Fat

–        Saturated Fat

0 g

0 g

0 g

0 g

Sodium
4.5 mg
9 mg
Total Carbohydrate

–        Sugar

6.5 g

0 g

13 g

0 g

Protein
0 g
0 g
Product: #8543