Organic Groats
FIND THIS ITEM AT YOUR NEAREST STORE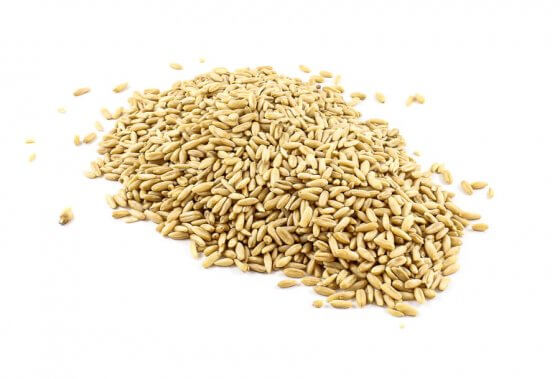 NUTRITION INFORMATION

Serving size:

 

50 g

Average Quantity

Per Serving

Average Quantity

Per 100 g

Energy

Protein

845 kJ

5.3 g

1690 kJ

10.6 g

Protein
5.3 g
10.6 g
Fat, total

– saturated

Carbohydrates

– sugars

4.2 g

0.8 g

35.3 g

<1.0 g

8.3 g

1.6 g

70.6 g

<1.0 g

Sodium
<2 mg
3 mg
Dietary Fibre
5.2 g
10.4 g
Organic Groats
FIND THIS ITEM AT YOUR NEAREST STORE
This Australian grown whole oat grain (known as 'groats') is Certified Organic and has been produced without the use of synthetic fertiliser or sprays. It is non-GMO and has no added preservatives. Oat groats have a fresh, nutty flavour and aroma. This versatile grain makes a wonderful traditional porridge. It can also be ground into flour or cooked whole in sweet or savoury recipes.
---
How to Use:
To make a traditional creamy porridge with these organic wholegrain oat groats pre-soak in cold water for at least an hour.  Strain and bring to the boil with 6 cups of water per cup of groats. Simmer on low (with the lid on) for 1 – 1½ hours until creamy. Add a pinch of salt, sweetener of choice (try maple syrup). Serve with dried fruit, chopped nuts and seeds, yoghurt or milk of choice.
This grain is also perfect for grinding, to produce fresh full-flavoured oat flour for baking or general cooking recipes. Lovely in bread, muffins and pancakes. Oat groats can also be cooked and used as an ingredient in salads, soups, hotpots or puddings.
Groats can be pre-soaked for several hours or overnight to reduce cooking time. Bring 1 part groats and 3 parts water to the boil in a covered pot. Simmer for 30 minutes, before turning the heat off. Leave to stand, with the lid on, for 8-12 hours. Drain excess liquid and use immediately or refrigerate in an airtight container for up to 3 days. Alternatively, add oats directly to plenty of stock or broth and simmer for about 3 hours, or until tender. Perfect for slow-cooks and soups.
Ingredients: 
Organic or Biodynamic Australian Wholegrain Oats. Preservative Free.
Allergens:
This product contains Gluten. May also contain traces of other allergens due to possible cross-contamination.
Storage:
Store in an airtight container in a cool, dry place, away from direct sunlight. Refrigeration recommended in warm climates.
Shelf Life:
Up to 12 months when stored as above. See Best Before date.
Please contact your local store to check availability.  Not available in all stores.  Images for illustrative purposes only.
NUTRITION INFORMATION

Serving size:

 

50 g

Average Quantity

Per Serving

Average Quantity

Per 100 g

Energy

Protein

845 kJ

5.3 g

1690 kJ

10.6 g

Protein
5.3 g
10.6 g
Fat, total

– saturated

Carbohydrates

– sugars

4.2 g

0.8 g

35.3 g

<1.0 g

8.3 g

1.6 g

70.6 g

<1.0 g

Sodium
<2 mg
3 mg
Dietary Fibre
5.2 g
10.4 g
Product: #13009