Organic Golden Linseed
FIND THIS ITEM AT YOUR NEAREST STORE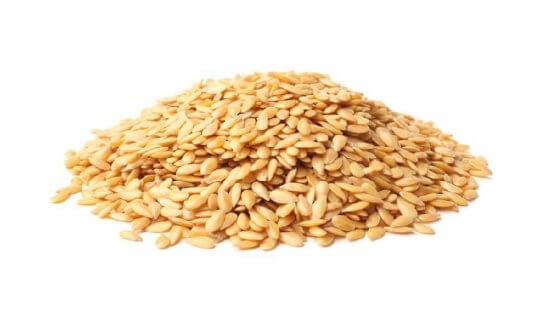 Per 50g serving
Per 100 g
Calories
1030.5 kJ
2061 kJ
Total Fat-
Saturated Fat
17 g

1.63 g

34 g

3.25 g

Sodium
15 mg
30 mg
Total Carbohydrate-        Sugar
17.15 g

2.95 g

34.3 g

5.9 g

Protein
9.7 g
19.4 g
Organic Golden Linseed
FIND THIS ITEM AT YOUR NEAREST STORE
Golden linseeds (also known as flaxseeds) are powerhouses of nutrition. They have a subtle nutty, slightly earthy flavour and are an inexpensive superfood that everyone can include in their diet.
---
How to Use:
To gain the most nutritional benefit from the Linseeds, be sure to grind them or chew them very well. Alternatively, put one heaped dessert spoon of seeds in a glass, cover with water and leave overnight to soak. Add the swollen seeds and water to fruit juice or a smoothie. Sprinkle ground linseed onto your hot or cold cereal or into yogurt or fruit salad. Add cracked or ground linseed to your homemade muffin, cookie or bread recipes. To give salads or cooked vegetables a nuttier flavour, sprinkle some linseed on top of them.
Grind Organic golden linseeds, sunflower seeds and almonds together to create fresh, nutritious LSA, a great Liver booster.
Ingredients:
Organic Golden Linseed.
Gluten-Free, Dairy-Free, Nut-Free, Grain-Free, Sugar-Free. Paleo.
Please contact your local store to check availability.  Not available in all stores.  Images for illustrative purposes only.
Per 50g serving
Per 100 g
Calories
1030.5 kJ
2061 kJ
Total Fat-
Saturated Fat
17 g

1.63 g

34 g

3.25 g

Sodium
15 mg
30 mg
Total Carbohydrate-        Sugar
17.15 g

2.95 g

34.3 g

5.9 g

Protein
9.7 g
19.4 g
Product: #412