Organic Quinoa Flour
FIND THIS ITEM AT YOUR NEAREST STORE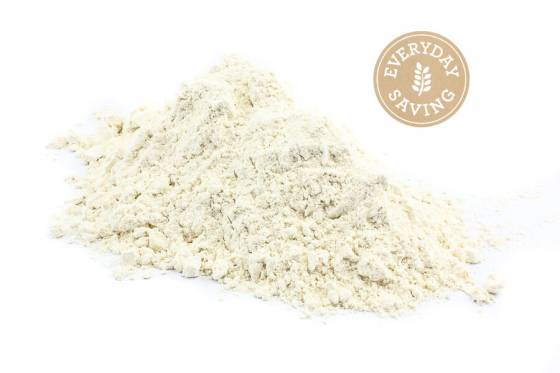 NUTRITION INFORMATION  

Serving size:                                           50 g

Average Quantity

Per Serving

Average Quantity

Per 100 g

Energy

Protein

755  kJ

6.75 g

1510 kJ

13.5 g

Fat, total

– saturated

Carbohydrates

– sugars

3.15 g

0.3 g

29.15 g

0.05 g

6.3 g

0.6 g

58.3 g

0.1 g

Sodium
10 mg
19 mg
Dietary Fibre
4.5 g
9.0 g
Organic Quinoa Flour
FIND THIS ITEM AT YOUR NEAREST STORE
LOW PRICE EVERYDAY: $19.00 kg 
Across every one of our locally owned stores, you'll enjoy low pricing and savings on over 50 essential grocery items all day, every day!
Instore and online, look for our Everyday Saving Symbol displayed on selected grains, beans, oils, baking, health, cleaning products and more!
An Everyday Saving every time you shop and no plastic to take home? There's never been a better reason to visit your neighbourhood The Source Bulk Foods!
Quinoa is traditionally grown and widely eaten in South America. Quinoa flour has a slightly sweet, nutty flavour and is a pale beige colour. This certified Organic flour is made in Peru from stone-ground quinoa seeds. It has no added preservatives and is non-GMO. Quinoa flour is most often used in sweet and savoury baking recipes but is also wonderful making for wheat-free pasta and pizza bases.
---
How to Use:
In bread recipes, Quinoa flour can be used to replace up to half the wheat flour. It is also delicious combined with buckwheat, rice and tapioca flours, although a raising agent is required. When used in bread without a gluten-flour, 1 tsp. of vinegar can be added for every 4 cups of flour to help it rise.
Let wheat-free dough rest in the fridge for 30 minutes. Quinoa flour is widely used in cake and biscuit recipes. It works well with groundnut meal and coconut flour – try it for a scrumptious lemon tart crust. Use quinoa flour to make wonderful pancakes; great with smashed banana and cinnamon, or try fresh herbs and grated cheese in the batter.
Create wonderful home-made gluten-friendly quinoa and brown rice flour pasta or use quinoa flour to make mouth-watering crisp pizza bases everyone will love. As this flour is organic and preservative-free it should ideally be refrigerated to retain maximum freshness.
Ingredients:
Organic Quinoa Flour. Preservative Free.
Allergens:
No known allergens. This product may contain traces of allergens due to cross-contamination.
Storage:
Store in an airtight container in a cool, dry place, away from direct sunlight. Refrigeration recommended in warm climates.
Shelf Life:
Up to 12 months when stored as above. See Best Before date.
Please contact your local store to check availability.  Not available in all stores.  Images for illustrative purposes only.
NUTRITION INFORMATION  

Serving size:                                           50 g

Average Quantity

Per Serving

Average Quantity

Per 100 g

Energy

Protein

755  kJ

6.75 g

1510 kJ

13.5 g

Fat, total

– saturated

Carbohydrates

– sugars

3.15 g

0.3 g

29.15 g

0.05 g

6.3 g

0.6 g

58.3 g

0.1 g

Sodium
10 mg
19 mg
Dietary Fibre
4.5 g
9.0 g
Product: #2175