Natural Gelatin
FIND THIS ITEM AT YOUR NEAREST STORE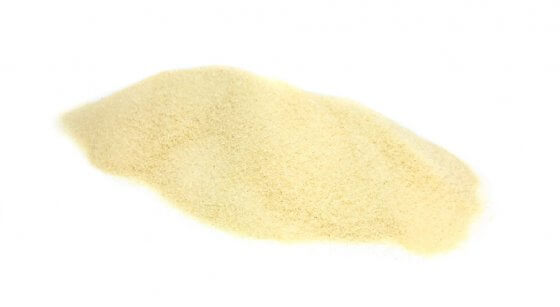 NUTRITION INFORMATION  

Serving size:                                           10g

Average Quantity

Per Serving

Average Quantity

Per 100 g

Energy

Protein

150 kJ

8.8 g

1500 kJ

88.0 g

Fat, total

– saturated

Carbohydrates

– sugars

 0.0 g

0.0 g

0.0 g

0.0 g

0.0 g

0.0 g

0.0 g

0.0 g

Sodium
1 mg
10 mg
Natural Gelatin
FIND THIS ITEM AT YOUR NEAREST STORE
Gelatin has traditionally been used for hundreds of years as a setting agent in the lollies, jelly, desserts, soups and sauces. More recently, gelatin has been rediscovered and embraced by people interested in gut and digestive health. Gelatin is a good source of protein that contains essential amino acids. This pure gelatin is made in Australia from 100% Australian ingredients. It is naturally extracted from collagen. The fine powder is odourless and flavourless, so it can be used in sweet or savoury dishes without affecting the taste.
---
How to Use:
To use gelatin in sweet or savoury recipes the powder must first be softened or 'bloomed'. Sprinkle a ¼ cup of powder into ½ a cup of cold water (1:2). Leave to sit until the gelatin rehydrates.
To add to soups and hotpots, whisk the softened gelatin into a cup of hot liquid or stock, then stir into the pot thoroughly. To thicken sauces, gradually stir in bloomed gelatin until desired consistency is achieved.
Alternatively, to make jelly add the bloomed gelatin (as above) to 200 ml of pre-heated fruit juice. Stir thoroughly until the gelatin is completely combined and dissolved, then refrigerate for 2 hours (or until set).  To set creamy, panna cotta or other 'soft' desserts use half the amount of 'bloomed' gelatin.
Savoury jelly can be used to top terrines, while sweet jelly is delicious served with ice cream or custard. To make a great topping for cheesecakes pour a thin layer of liquid jelly over pre-set cake, before refrigerating again to allow the jelly to set. Use gelatin to make homemade natural gummy lollies or vitamin C chewies.
Ingredients:
Natural Gelatin. Preservative Free. Paleo.
Allergens:
This product contains No Known Allergens. May contain traces of allergens due to possible cross contamination.
Storage:
Store in an airtight container in a cool (15-20 degrees), dry place, away from direct sunlight.
Shelf Life:
Up to 5 years when stored as above. See Best Before date.
Please contact your local store to check availability.  Not available in all stores.  Images for illustrative purposes only.
NUTRITION INFORMATION  

Serving size:                                           10g

Average Quantity

Per Serving

Average Quantity

Per 100 g

Energy

Protein

150 kJ

8.8 g

1500 kJ

88.0 g

Fat, total

– saturated

Carbohydrates

– sugars

 0.0 g

0.0 g

0.0 g

0.0 g

0.0 g

0.0 g

0.0 g

0.0 g

Sodium
1 mg
10 mg
Product: #51881