Unsweetened Nut Mylk Base
FIND THIS ITEM AT YOUR NEAREST STORE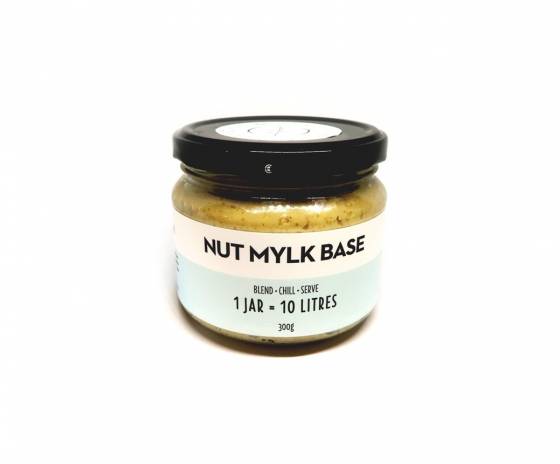 Servings per package:                         40

Serving size:                                           7.5 g

Average Quantity

Per Serving

Average Quantity

Per 100 g

Energy

Protein

186 kJ

1.2 g

2340 kJ

16.6 g

Fat, total

– saturated

Carbohydrates

– sugars

3.8 g

0.6 g

1.1 g

0.4 g

51.3 g

7.6 g

14.9 g

5.4 g

Sodium
1 mg
9 mg
Unsweetened Nut Mylk Base
FIND THIS ITEM AT YOUR NEAREST STORE
This concentrated Nut paste makes a huge total of 10 litres of milk, that's reducing landfill by 10 cartons! Only the highest quality of ingredients are used to create this paste; certified organic & insecticide-free.
Enjoy this homemade, fresh, creamy milk on its own or as a base to your smoothies.
This is nutrition, simplicity and sustainability at its finest.
---
How to Use:
To use this unsweetened Nut Mylk Base, Combine 1.5 to 2 tablespoons of Nut Mylk Base with 1L of water into your blender and blend on high for 1 minute. Pour into glass jar or bottle and chill for best results. Store in the fridge for up to 3-4 days.
To make a smoothie add a teaspoon (7.5g) of Nut Mylk Base directly to your blender, along with your smoothie ingredients and 250mL of water, allowing you to make your milk and smoothie at the same time.
Shake well before pouring milk as contents may settle.
Ratio of Nut Mylk Base to water is dependant on your taste. Adjust accordingly for thicker creamier milk.
Ingredients:
Raw cashews*, raw almonds*, raw macadamias*, arrowroot*, mesquite*, macrobiotic sea salt. *Australian Certified Organic Preservative Free. Paleo. Sugar-Free.
Allergens:
This product contains Tree Nuts. May also contain traces of peanuts or other allergens due to possible cross-contamination.
Storage:
Store in an airtight container in a cool, dry place, away from direct sunlight. For best results, refrigerate after opening.
Shelf Life:
Up to 12 months when stored as above. See Best Before date.
Please contact your local store to check availability.  Not available in all stores.  Images for illustrative purposes only.
   Servings per package:                         40

Serving size:                                           7.5 g

Average Quantity

Per Serving

Average Quantity

Per 100 g

Energy

Protein

186 kJ

1.2 g

2340 kJ

16.6 g

Fat, total

– saturated

Carbohydrates

– sugars

3.8 g

0.6 g

1.1 g

0.4 g

51.3 g

7.6 g

14.9 g

5.4 g

Sodium
1 mg
9 mg
Product: #44465