Natural Lemon Pepper
FIND THIS ITEM AT YOUR NEAREST STORE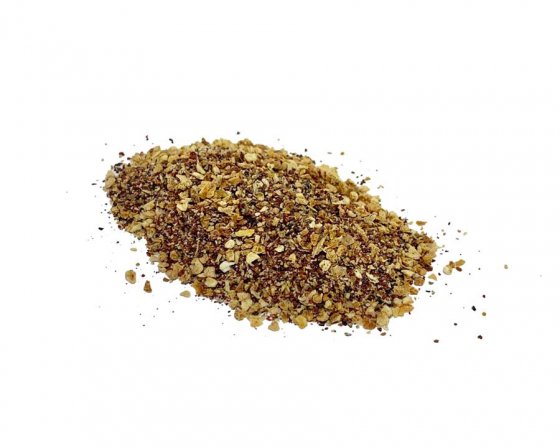 Natural Lemon Pepper
FIND THIS ITEM AT YOUR NEAREST STORE
This natural lemon pepper is made in Australia from organic black peppercorns and organic dried lemon peel. Ground sumac berries give this seasoning an extra zesty, citrus flavour. Unlike most lemon pepper mixes, this blend is completely free of added preservatives, flavour-enhancers and fillers.
Lemon Pepper is a delicious spice blend that is full of tangy lemon and warm pepper flavours and aromas. It can be added to hot or cold dishes as a seasoning or used at the table as a condiment.
---
How to Use:
It is well known that both lemon and pepper help to bring out the flavour in many foods.
This natural seasoning blend is a great addition to salad dressings instead of lemon juice or add some to melted butter and drizzle over cooked vegetables. Sprinkle into soups, stir-fries and hotpots or use as a dry rub to give a zesty note to meat. Add lemon pepper to marinades and sauces that are perfect for tempeh, tofu and seafoods. It is also a delicious addition to stuffing and crumbing mixes.
Lemon pepper makes a great ready-to-use condiment at the table. Pop some on the table and use in place of cracked pepper. This blend is so tasty you can even skip the salt!
Ingredients:
Lemon Peel* (50%), Black Pepper* (25%), Ground Sumac Berries. *Certified Organic. Preservative Free. No Added Sugar. Paleo.
Allergens:
No known allergens. This product may contain traces of allergens due to possible cross-contamination.
Storage:
Store in an airtight container in a cool, dry place, away from direct sunlight.
Shelf Life:
Up to 24 months when stored as above. See Best Before date.
Please contact your local store to check availability.  Not available in all stores.  Images for illustrative purposes only.
Product: #52635