DIY Almond Nut Mylk
FIND THIS ITEM AT YOUR NEAREST STORE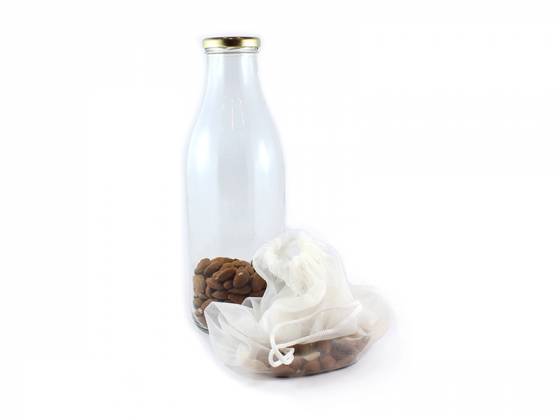 ALMONDS, RAW.

NUTRITION INFORMATION  

Serving size:                                           40 g

Average Quantity

Per Serving

Average Quantity

Per 100 g

Energy

Protein

1035 kJ

8.8 g

2587 kJ

22.0 g

Fat, total

– saturated

Carbohydrates

– sugars

22.08 g

1.56 g

1.72 g

1.68 g

55.2 g

3.9 g

4.3 g

4.2 g

Sodium
1 mg
2 mg
Dietary Fibre
4.88 g
12.2 g
DIY Almond Nut Mylk
FIND THIS ITEM AT YOUR NEAREST STORE
A great ready-to-go kit for fresh, home-made almond milk. Simple, quick and easy to use, this recipe-in-a-jar contains raw Australian grown insecticide-free almonds. Simply soak in the jar provided, blend, strain through the bag, and return nut mylk to the jar for use or storage. This kit can then be re-used again and again with your choice of nuts, or grains like oats and rice.
To Add:
Fresh Water (Filtered). Sweetener of Choice (Optional).
---
How to Use:
Soak these raw almonds in filtered water overnight (8-12 hours) in this 1 litre bottle. Drain Water. Blend almonds with 3 cups of fresh water. If desired, add 1 pitted date or your favourite sweetener (try maple syrup, coconut nectar or rice malt syrup). Strain through nut mylk bag.
Return fresh almond mylk to clean bottle and refrigerate for up to 4 days. Great as a dairy replacement in hot beverages, golden chai, smoothies & shakes, raw foods & baking recipes. Use remaining nut meal for baking, bliss balls or muesli bars (will refrigerate for several days). Wash nut bag and hang to dry.
To re-make recipe use 1 cup of raw almonds or other nut of choice. Also, great for oat, rice or soy mylks.
Makes approximately 4 cups of mylk.
Contents:
165g Raw Australian Insecticide Free Almonds, Nut Mylk Bag, 1 Litre Bottle. Preservative Free. No Added Sugar. Paleo.
Allergens:
This product contains Tree Nuts. May also contain traces of other allergens due to possible cross-contamination.
Storage:
Store in an airtight container in a cool, dry place, away from direct sunlight. Refrigerate nut mylk once made in airtight container.
Shelf Life:
Raw product up to 6 months when stored as above. See Best Before date.
Please contact your local store to check availability.  Not available in all stores.  Images for illustrative purposes only. Type of jar may vary from store to store.
ALMONDS, RAW.

NUTRITION INFORMATION  

Serving size:                                           40 g

Average Quantity

Per Serving

Average Quantity

Per 100 g

Energy

Protein

1035 kJ

8.8 g

2587 kJ

22.0 g

Fat, total

– saturated

Carbohydrates

– sugars

22.08 g

1.56 g

1.72 g

1.68 g

55.2 g

3.9 g

4.3 g

4.2 g

Sodium
1 mg
2 mg
Dietary Fibre
4.88 g
12.2 g
Product: #22832