Biodynamic Medium Grain Brown Rice
FIND THIS ITEM AT YOUR NEAREST STORE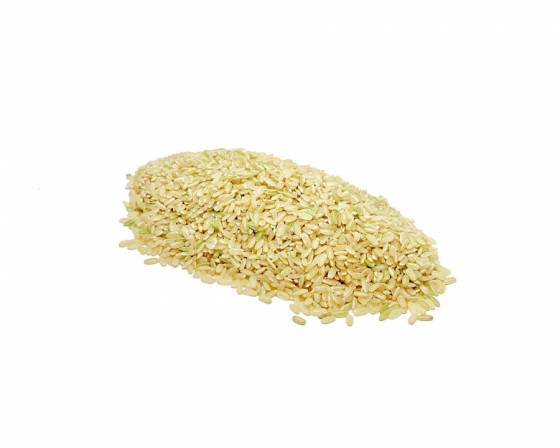 NUTRITION INFORMATION  

Serving size:                                           70 g

Average Quantity

Per Serving

Average Quantity

Per 100 g

Energy

Protein

1040 kJ

5.1 g

1490 kJ

7.3 g

Fat, total

– saturated

Carbohydrates

– sugars

1.8 g

0.3 g

51.0 g

<1.0 g

2.6 g

<1.0 g

72.9 g

<1.0 g

Sodium
<4 mg
<5 mg
Dietary Fibre
2.7 g
3.9 g
Biodynamic Medium Grain Brown Rice
FIND THIS ITEM AT YOUR NEAREST STORE
This medium grain brown rice is Biodynamically grown and milled in Australia. Biodynamic (BD) is an enhanced method of certified organic farming that concentrates on enhancing soil, plant, and environmental health and vitality. With a delicious nutty flavour and aroma, this rice has a slightly chewy texture. Medium grain brown rice is wonderfully versatile and can be served as a side dish or used in all your favourite recipes, milled for flour, and used to make homemade rice mylk.
---
How to Use:
Flavoursome medium grain bio-dynamic brown rice can be milled for fresh flour or used to make fresh brown rice mylk. For homemade dairy-free mylk simply pre-soak well-rinsed rice overnight, strain and blend with water (ratio 1:4). A little sweetener like honey or coconut nectar and vanilla are optional. Once blended, strain through a clean cloth, squeezing the cloth out. Refrigerate for up to 3 days. Enjoy brown rice mylk in hot or cold beverages and in place of dairy milk in recipes.
Brown rice also makes delicious pudding, although it requires extra liquid and time to cook than white rice. Simply cook as you would oats for porridge. Stir often, and when rice is soft and creamy serve with maple syrup and almond mylk. Top with sliced banana, fresh berries or chopped nuts. Great for breakfast or supper. Serve this brown rice as an accompaniment to all your favourite curries, hotpots and savoury dishes. It can also be used to create delicious rice balls and patties, pilaf, seafood paella, or fresh Mediterranean inspired salads.
Ingredients:
Biodynamic Medium Grain Brown Rice. Preservative Free, Vegan.
Allergens:
No Known Allergens. May contain traces of allergens due to possible cross-contamination.
Storage:
Store in an airtight container in a cool, dry place away from direct sunlight.
Shelf Life:
Up to 24 months when stored as above. See Best Before date.
Please contact your local store to check availability.  Not available in all stores.  Images for illustrative purposes only.
NUTRITION INFORMATION  

Serving size:                                           70 g

Average Quantity

Per Serving

Average Quantity

Per 100 g

Energy

Protein

1040 kJ

5.1 g

1490 kJ

7.3 g

Fat, total

– saturated

Carbohydrates

– sugars

1.8 g

0.3 g

51.0 g

<1.0 g

2.6 g

<1.0 g

72.9 g

<1.0 g

Sodium
<4 mg
<5 mg
Dietary Fibre
2.7 g
3.9 g
Product: #51757