Sunny Seed Cracker Mix
FIND THIS ITEM AT YOUR NEAREST STORE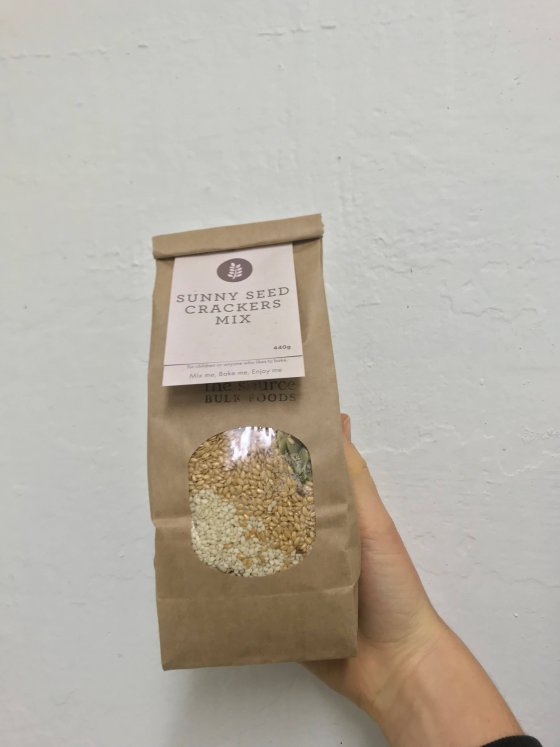 Serving size:   50 g 

 

 

Average Quantity 

 

Per Serving 

Average Quantity 

 

Per 100 g 

Energy

 

Protein 

1154 kJ

 

10.0 g 

2308 kJ

 

19.9 g 

Fat, total

 

– saturated 

Carbohydrates 

– sugars 

23.5 g

 

3.0 g 

6.4 g 

0.7 g 

46.9 g

 

5.9 g 

12.7 g 

1.4 g 

Sodium

 

230 mg

 

460 mg

 

Dietary Fibre

 

7.2 g

 

14.4 g

 
Sunny Seed Cracker Mix
FIND THIS ITEM AT YOUR NEAREST STORE
Our Sunny Seed Cracker Mix is a must-have to keep in the pantry, ready to make when guests are expected or you're craving a healthy savoury cracker to have on a platter or with dips.  These crackers are incredibly easy to make and all you need to add is water!  Of course, you could add a few extra spices such as our Italian herb mix, yeast flakes or perhaps a little bit of chilli for a touch of heat.  Lemon myrtle would be delicious as well.  Our kit makes enough to cover two baking trays so either bake a large batch to store or halve the recipe to keep some to make later. 
---
How to Use:
To make Sunny Seed Crackers you will also need:
490mL of slightly warm water
Turn oven on to pre-heat to 160°C.  Mix the contents of the bag in a large bowl, combine with water and let sit for 15 minutes until it starts to thicken slightly to a gooey consistency. Stir mixture again, then spread thinly on to a large paper-lined oven tray (or two average trays). Bake for 1 hour at 160°C. Remove from the oven and mark the cutting lines.  Return crackers to oven and bake for a further 30 to 60 minutes depending on how thick the crackers are.  Switch off the oven, leaving crackers in there for another hour to dry and become crisp.  Remove from oven and allow to cool before breaking slab into cracker size pieces.
Enjoy with your favourite dips and toppings, or store in an air-tight container for later. This recipe-in-a-bag makes a great fun gift for children or anyone who likes to bake.
Ingredients:
Australian Insecticide-free Sunflower Seeds (45%), Sesame Seeds*(23%), Australian Brown Linseeds* (14%), Pepitas* (14%), Psyllium Husks, Australian Pink Lake Salt. *Certified Organic.  Preservative Free. 
Allergens:
This product contains Sesame Seeds.    May also contain traces of other allergens due to possible cross-contamination.
Storage:
Store in a cool, dry place away from direct sunlight. Refrigeration recommended in warm climates.
Shelf Life:
Up to 3 months when stored as above. See Best Before date. 
Please contact your local store to check availability.  Not available in all stores.  Images for illustrative purposes only.
Serving size:   50 g 

 

 

Average Quantity 

 

Per Serving 

Average Quantity 

 

Per 100 g 

Energy

 

Protein 

1154 kJ

 

10.0 g 

2308 kJ

 

19.9 g 

Fat, total

 

– saturated 

Carbohydrates 

– sugars 

23.5 g

 

3.0 g 

6.4 g 

0.7 g 

46.9 g

 

5.9 g 

12.7 g 

1.4 g 

Sodium

 

230 mg

 

460 mg

 

Dietary Fibre

 

7.2 g

 

14.4 g

 
Product: #52872