Organic Marshmallow Root
FIND THIS ITEM AT YOUR NEAREST STORE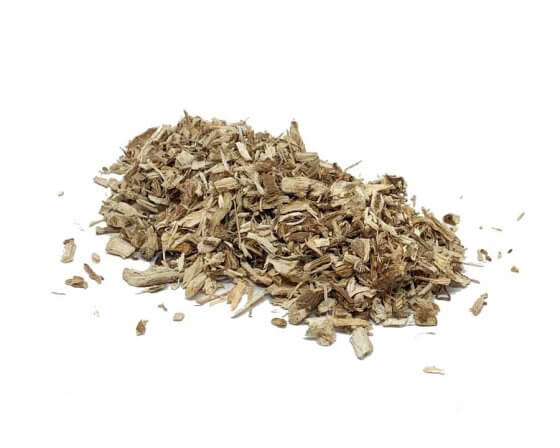 Organic Marshmallow Root
FIND THIS ITEM AT YOUR NEAREST STORE
This certified organic dried Marshmallow (Althaea officinalis) is made from the unpeeled root, simply cut into small pieces. It is non-GMO and has no added preservatives. Marshmallow root was an original ingredient in the confectionery 'marshmallows'. It is also traditionally valued for its mucilaginous qualities when soaked in water, and was used to relieve mild respiratory or digestive inflammation. It can be used to make a soothing hot or cold herbal tea, added to food, or in an infusion for use in home-made skin and hair care products.
---
How To Use:
Add 1-2 tbsps. of dried marshmallow root to a cup hot water and let stand for at least 5 minutes to make a soothing tea. Another method is to bring marshmallow and water to the boil in a small pot. Let simmer for about 20 minutes; strain, sweeten if desired & serve. Combines well with peppermint, slippery elm or in a relaxing Chai.
Alternatively, a cold infusion can be made, creating a more gelatinous liquid. 1/4 fill a 500 ml bottle with dried marshmallow root. Top with warm water, cover and let stand for at least 4 hours. Strain & serve.
And of course it can be used to make 'marshmallows', or add to slow-cook savoury recipes. Marshmallow is also a wonderful ingredient for all your homemade skin care products or can be used in nourishing shampoo, conditioner and hair-detangler recipes.
Ingredients:
Certified Organic Marshmallow Root (Unpeeled and Cut). Preservative Free. Paleo.
Allergens:
No known allergens. May contain traces of allergens due to possible cross-contamination.
Storage:
Store in an airtight container in a cool, dry place, away from direct sunlight.
Shelf Life:
Up to 48 months when stored as above. See Best Before date.
Please contact your local store to check availability.  Not available in all stores.  Images for illustrative purposes only.
Product: #23830