Organic Red Miso Powder
FIND THIS ITEM AT YOUR NEAREST STORE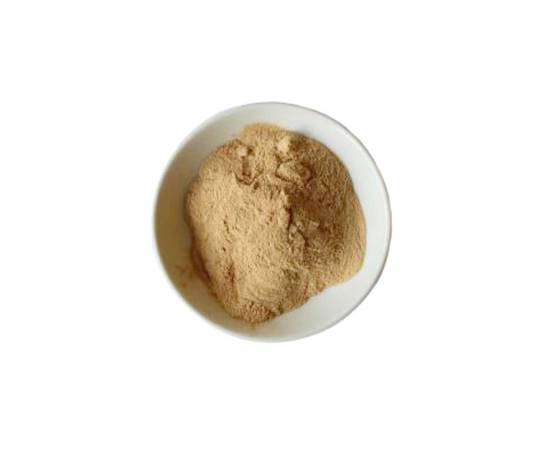 NUTRITION INFORMATION  

Serving size:                                           3 g

Average Quantity

Per Serving

Average Quantity

Per 100 g

Energy

Protein

42  kJ

0.58 g

1414 kJ

19.36 g

Fat, total

– saturated

Carbohydrates

– sugars

0.3 g

0.04 g

0.88 g

0.12 g

9.98 g

1.44 g

29.35 g

3.99 g

Sodium
180 mg
5985 mg
Dietary Fibre
0.26 g
8.8 g
Organic Red Miso Powder
FIND THIS ITEM AT YOUR NEAREST STORE
This Organic Red Miso Powder has a full, savoury flavour and aroma when reconstituted; and contains no artificial flavours, colours or preservatives. Certified Organic soya beans and rice are fermented with a naturally occurring culture – the probiotic fungus Aspergillus Oryzae (also known as Koji-kin). The resulting miso is then dehydrated at <39oC, and made into this convenient, easy to use powder. Red miso powder is ideal for making a quick, warming snack or to add to any soup or hearty hot pot. It can also be sprinkled over salads or used in raw food recipes.
---
How to Use:
Due to the moisture sensitivity of this powder always use a dry spoon when removing from airtight container. For a quick cup of organic fermented miso soup stir 1 teaspoon (3 grams) of this powder into 200 ml of boiling water, adding a few chopped herbs, chilli or grated ginger if desired. To make a bowl of soup allow 2 tsps. of powder to 400ml of water per person.
Create nourishing broth bowls by adding your choice of chopped vegetables, fresh herbs, shredded chicken and noodles. A great way to use left-over roasts. Simply shred meat into miso soup and serve with crusty bread, or poured over mashed spuds, sweet potato and parsnip for a hearty meal.
Dumplings are delectable served in miso soup, or use it as a flavour boost to any hot pot – simply stir in a few spoons just before serving. Sprinkle a little miso powder over salads or any savoury meal in place of salt as a condiment. Lovely in salad wraps or sushi rolls. This powder can be added to raw cracker recipes.
Or mix a few spoons into home-baked bread or muffin recipes. Reconstitute the powder to a paste consistency and use it as a wonderful Organic spread – mix ¾ cup of miso powder to 1 cup of water.
Ingredients:
Organic Soybeans, Organic Rice, Salt, Organic Aspergillus Oryzae.
Preservative Free, Non-GMO, No Added Sugar.
Allergens:
This product contains Soy. This product may contain traces of other allergens.
Storage:
Store in an airtight container in a cool, dry place, away from direct sunlight. Refrigeration recommended in warm climates.
Shelf Life:
Up to 24 months when stored as above. See Best Before date.
Please contact your local store to check availability.  Not available in all stores.  Images for illustrative purposes only.
NUTRITION INFORMATION  

Serving size:                                           3 g

Average Quantity

Per Serving

Average Quantity

Per 100 g

Energy

Protein

42  kJ

0.58 g

1414 kJ

19.36 g

Fat, total

– saturated

Carbohydrates

– sugars

0.3 g

0.04 g

0.88 g

0.12 g

9.98 g

1.44 g

29.35 g

3.99 g

Sodium
180 mg
5985 mg
Dietary Fibre
0.26 g
8.8 g
Product: #21115