Phycocyanin E18 – Blue Spirulina Extract
FIND THIS ITEM AT YOUR NEAREST STORE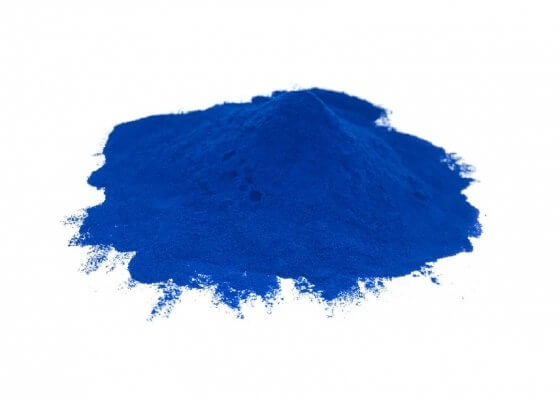 NUTRITION INFORMATION  

Serving size:                                           1 g

Average Quantity

Per Serving

Average Quantity

Per 100 g

Energy

Protein

14 kJ

0.4 g

1438 kJ

37.5 g

Fat, total

– saturated

Carbohydrates

– sugars

<0.1 g

0 g

0.5 g

0.2 g

<0.1 g

0 g

48.4 g

17.7 g

Sodium
12 mg
1150 mg
Dietary Fibre
<0.1 g
4.5 g
Phycocyanin E18 – Blue Spirulina Extract
FIND THIS ITEM AT YOUR NEAREST STORE
This Blue Spirulina extract consists of 65% certified organic Phycocyanin – the antioxidant blue pigment in spirulina, and 30% trehalose, a naturally occurring glucose in seaweed. Sodium citrate is added to stabilise this very fine powder. E18 is the colour rating for this phycocyanin – indicating it is a very vivid, dark blue colour which is, of course, completely natural. It has a pleasant, sweet flavour with mild sea vegetable notes.
Blue spirulina can be added to smoothies, juices and raw foods. It is also perfect for adding natural colour to icing and confectioneries.
---
How to Use:
As this powder is so concentrated only the smallest amount is required to add brilliant colour and natural goodness to recipes. Add between 1/2 to 1 gram of blue spirulina extract, just the tip of a teaspoon, to smoothies or fresh juice, sprinkled over breakfast bowls, or stirred into your favourite yoghurt.
Phycocyanin can also be added to raw snacks – try a little in energy balls, slices and chia puddings. Or add sparingly to salads, wraps, sushi or rice paper rolls.
Mix just a little into an icing mix for a funky blue tint when decorating cakes or biscuits.
Ingredients:
Organic Phycocyanin (65%),  Trehalose,  Sodium Citrate. Preservative Free.
Allergens:
No known allergens. May contain traces of other allergens due to possible cross-contamination.
Storage:
Store in an airtight container in a cool, dry place, away from direct sunlight.
Shelf Life:
Up to 24 months when stored as above. See Best Before date.
Please contact your local store to check availability.  Not available in all stores.  Images for illustrative purposes only.
NUTRITION INFORMATION  

Serving size:                                           1 g

Average Quantity

Per Serving

Average Quantity

Per 100 g

Energy

Protein

14 kJ

0.4 g

1438 kJ

37.5 g

Fat, total

– saturated

Carbohydrates

– sugars

<0.1 g

0 g

0.5 g

0.2 g

<0.1 g

0 g

48.4 g

17.7 g

Sodium
12 mg
1150 mg
Dietary Fibre
<0.1 g
4.5 g
Product: #49152